reports in Omni Select
is there a way to export the data that is generated in to excel?
For any reports that support CSV there will be a selector like this one in the Reports section: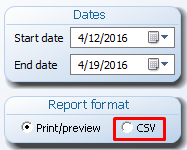 If it doesn't have this selector then it's either not a report structure that will support CSV
or
 the CSV format has not been added yet to that report. 
As of this posting, the current Omni Select v1.3.2.4 does not have any CSV reports in the Automation module. When they become available it be added to
this post
.
Permissions in this forum:
You cannot reply to topics in this forum